About the author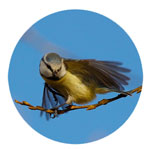 My name is Vanderhaegen Bart, a 41 years old bachelor in Electronics from Belgium. One of my main interests is nature photography: during the past 16 years I have taken more than 35,000 photographs.
All of my pictures are geotagged: This means they contain the GPS position to mark the location the pictures were made. This is very useful when doing nature photography. It allows you to determine where youíve spotted a certain animal, bird, ...
Having the GPS position inside the photos is one thing. But you also need some software to visualize this location on a map. This is why I decided to create Photo GPS Extract: to show the location on a Google Map very quickly.
During the past years Photo GPS Extract became quite successful: the software was downloaded tens of thousands of times. The software is being used by amateur photographers, companies and even some governments. Most features of the software are the result of an user request. So please donít hesitate to contact me if you have any desires for new features.
The photos at the bottom of this screen were taken during my holidays. They all contain the GPS coordinates so you can use them to test Photo GPS Extract: just click a photo to download it.
I hope you enjoy this software!