Welcome to the Photo GPS Extract website!
Photo GPS Extract is a free Windows-compatible software tool to quickly visualize the GPS location of a JPG photo: it will read the coordinates from the photo and show them on a Google Map. Read more about this software ...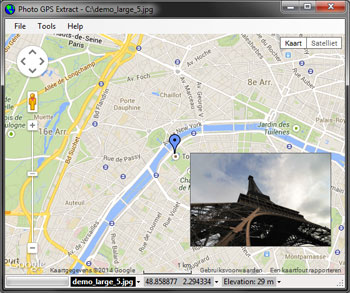 Important message: Google recently changed its pricing policy for the usage of the Google Maps. Because of this, all versions of Photo GPS Extract up to version 7 will stop functioning properly as the Google now requires applications to have an API-key. I am working on a new version Photo GPS Extract 8.0 but this version isn't finished yet. As a result, there are temporarily no fully-working downloads available.